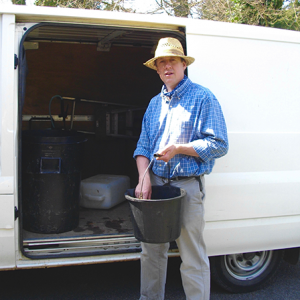 Michael Fuller, graduated from Writtle Agricultural College, Essex in 1983 with an HND in Amenity Horticulture.
After three years as a self-employed gardener in London, he spent eight years in various Camphill communities, living and working as a gardener alongside people with special needs.
In Camphill he first encountered biodynamics, which led him to Switzerland where he spent three years deepening his understanding of biodynamic gardening at the Goetheanum, Dornach – an international multi-disciplinary conference centre and theatre set in 4 acres of biodynamically cultivated grounds.
Since moving to Forest Row, where he has lived with his family for over 20 years, Michael has brought his gardening and biodynamic knowledge to the community and surrounding areas. Here he set up 'Michael Fuller Gardens', where he works with a team of young, enthusiastic hardworking assistants providing a wide range of gardening services as well as selling related products at local markets and online.